Animal Success Stories
We welcome updates on the hounds we have placed... if you have a story to tell, please send it to Addy Dawes, ggbassetlovr@hotmail.com, with photos if possible, and we'll feature it here.
Click a letter to find an animal or
view all
.
Duke (Oroville)
We are so incredibly in love with Duke, he is perfect for our family and such an amazing, good boy. Thank you both for hooking us up with him. Jennifer made two drives down to Vacaville to meet us and did so much to keep this boy happy while fostering. I a™m so grateful for that. Many many thanks, Sharon, Charlie, Julien, Foxy, and Duke
Daisy Mae
One of our friends joked that before we met Daisy Mae, we had a "basset sized hole" in our lives, and it is so true. Daisy Mae has brought so much happiness to our lives, and I hope that we have brought the same to hers. We adopted Daisy at the ripe old age of 11, but no one told her that. She was just as rambunctious as a teenager and we quickly fell in love. Daisy loves to walk, eat, explore, cuddle, and sleep in equal parts. She is just as at home snoozing on the bed as she is taking a wild adventure through the park. She loves belly rubs, ear rubs, and rolling around the bed grunting. She gets along very well with her dog brother and cat brothers and sisters! I'd never met a basset before Daisy and now I am in love with the breed. We write this on the second year of her adoptiversary, and we are so glad that we adopted her!
Deacon
Louie-Deacon When I was a little puppy, my name was Deacon and I had a nice Mom for the first 10 years of my life. In January, Mom went to the Rainbow Bridge and couldn't come back. I was sent to the Golden Gate Basset Orphanage. I had to see some doctors and they removed a HUGE tumor from my back, removed an eye which was infected, and took away my manhood!! They said, in spite of everything, I was in pretty good shape, so I went to a foster home with a nice lady named Debbie. In June, my new Mom was helping a friend adopt a basset from the orphanage when she saw my picture on the GGBR website. She says it was love at first sight! Debbie drove me to Stockton to meet my new family. I have two new sisters, Maggie and Ellie (both from GGBR) and Mom cooks kosher dog food for all of us!! Not just chicken meatloaf, but apple and cheese biscuits, too, and a special chicken and rice soup just for ME! Mom is trying to put some weight on me. She says my little basset-butt is too skinny. I get to sleep on the big (not big enough) bed with Mom. Mom gave me a new name, too - I am now known as Louie-Deacon. I am a happy little boy now, but, if anyone sees my cojones, I'd like to have them back!!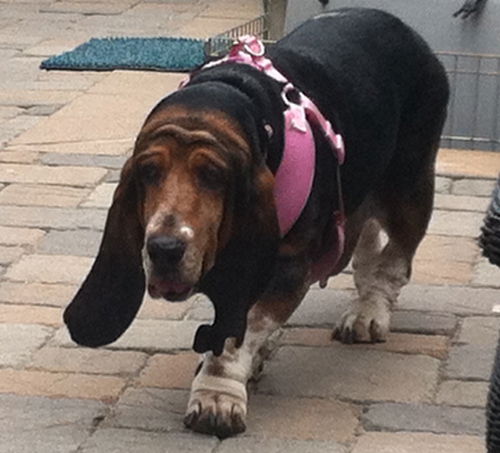 Ripley
About two months ago I lost my last Basset Brutus. He was a rescue also from the Monterey SPCA. He died of cancerous tumors that made him unable to use his hind legs. Yet he still dragged himself into my bedroom to sleep on his mat. He was 12 when he passed. With his loss i stayed more in the house and did not sleep well. All my neighbors missed Brutus as well. I tried to look at the Monterey SPCA but they seemed to only have chichuauas or Pit Bulls. So I found Golden Gate on the web. After much patience on all concerned I found Jemima. It was so nice to have Sue bring her down to Pacific Grove for a visit. After that one week later I drove up to Fremont to pick her up. She is so great in the car by jumping into the back seat and lying down. I take her to the beach and to the woods. Afterwards we go into my garden where she patrols the fence, greets other dogs, and chases squirrels. In the evenings I read in my small sofa while she snoozes next to me. At Bedtime she will sneak in when i am asleep and vaults into the bottom of the bed. In the morning I am awakened by a yawning yelp and a wet nose on my face. We are still working on separation anxiety whenever I have to leave the house. Because she is so clever and athletic I have been forced to rearrange furniture so she does not vault up on my desk and scatter my papers. This is having a good effect and I believe that she will trust me to return, When I do she gets a hug and her ears gently tugged. She also has learned the word snack. Right now she is asleep on the settee. Life is now good with Jemima. Thank you for all you do! Most sincerely, Ken Cuneo
Ellie
Here's the beautiful Miss Ellie, a two-time graduate of GGBR, and I promise, this time it's forever! She's a great big girl, but has trimmed down to a svelte 70 pounds and with home-cooking, we have eliminated her allergies. At the age of six-and-a-half, she seems to be a perpetual puppy. She helps with the dishes by crawling into the dishwasher, she trashes the wastebaskets, counter-surfs and runs through the house with a stuffed toy in her jaws. Oh, yes, and she's peed on the carpet a few times, but what else would I do with my carpet shampooer?? Her sister Maggie (also from GGBR) and brother Mo think she's pretty special. I have to agree with them :)
Click a letter to find an animal or
view all
.