Rainbow Bridge
Click a letter to find an animal or
view all
.
The Rainbow Bridge
Just this side of heaven is a place called Rainbow Bridge. When an animal dies that has been especially close to someone here, that pet goes to Rainbow Bridge. There are meadows and hills for all of our special friends so they can run and play together. There is plenty of food, water and sunshine, and our friends are warm and comfortable. All the animals who had been ill and old are restored to health and vigor; those who were hurt or maimed are made whole and strong again, just as we remember them in our dreams of days and times gone by. The animals are happy and content, except for one small thing; they each miss someone very special to them, who had to be left behind. They all run and play together, but the day comes when one suddenly stops and looks into the distance. His bright eyes are intent; His eager body quivers. Suddenly he begins to run from the group, flying over the green grass, his legs carrying him faster and faster. You have been spotted, and when you and your special friend finally meet, you cling together in joyous reunion, never to be parted again. The happy kisses rain upon your face; your hands again caress the beloved head, and you look once more into the trusting eyes of your pet, so long gone from your life but never absent from your heart. Then you cross Rainbow Bridge together.... Author Unknown.
Bella
We adopted our Bella (aka Daisy) in August of 2011 from Golden Gate Basset Rescue. We did not know much about Basset Hounds, as our last dog, Louie, was a Beagle. We did know that we loved the hound dogs. Within days we were in love with Bella (pronounced Bay-yuh) and the breed. Bella was the love of our lives and brought joy to us every day. No way could you be down or sad with Bella in your life. She gave us as much love as we gave her and then some. She had the perfect amount of goofiness, sweetness, and attitude. In January of 2021, Bella was diagnosed with an enlarged heart. By early April she was struggling again, so we added another medicine. On April 11, 2021 Bella's heart stopped. She passed away in her mom's arms on the way to the emergency vet, surrounded by her family petting her and telling her how much we love her. She took a huge piece of our hearts with her that day. On the way home from the vet, we saw a tiny rainbow in the sky; Bella was telling us she was happy and on her way over the rainbow bridge. We miss our baby girl every day and are so blessed to have had her in our lives for the past 10 years. She was special! Look for a picture of our beautiful Bella in the 2021 Golden Gate Basset Rescue calendar on September 6th! We wish more than anything that she could have made it to her calendar day, but we're grateful to have had her for as long as we did. Thank you to Golden Gate Basset Rescue for saving her life over 10 years ago and bringing her into ours. We will love and miss her forever. Until we meet again over the rainbow bridge!
Seymour (aka Hector)
Seymour, aka Seymour Butts, aka Sergeant Spicy Weiner was adopted in July 2008 from Golden Gate Basset Rescue. We guessed he was around a year old, and he quickly gained weight and stole our hearts. He was svelte, funny, and loved to paw at the springy dog stoppers and bark at them. As a pup he would zoom around the living room, up the stairs, jump on our bed, and zoom back down again. He loved to chase the big dogs around the dog park, and would bark at them because his short legs couldn't keep up. He was usually obedient, except that one time we let him and Cassie (another GGBR rescue) off leash at a deserted beach, where they took off and we had to run after them for half a mile! Seymour was exceptionally patient and put up with wearing Halloween costumes. His pirate costume won him a year's worth of pet food! He learned to shake, and play dead, though it was usually a very slow lay down and eventual roll to the side. His bark was deep and commanding, though we never once heard him howl. He loved to steal Rob's socks and bury them in backyard for safe keeping. He chewed on stuffed animals, popped bubble wrap, and removed caps from plastic bottles. He ripped apart a plush octopus and pooped out a few 8" long tentacles! Likes include peanut butter, Costco rotisserie chicken, socks, chicken poo, and cat puke. Disliked baths (but loved getting towel dried), but not much else. He was so easy going and a wonderful dog. I loved his floppy ears and jowls, deep brown eyes, jelly chest, and butt whorls. Our beloved Seymour crossed over the rainbow bridge on 4/20/21. We are so lucky to have had him in our lives for the past 13 yrs. He was such a sweet little man, and we miss him so much.
Walter
Walter came to us, along with another basset named Sebastian, on January 15, 2010 at age two. A few weeks later another basset named Nikko came and the three were inseparable. He was rambunctious, full of life, and a mischievous little one. He was also quite the charmer, always making sure he gets the attention along with an armpit scratch when anyone acknowledges him. He loved to play and always initiated play time with the other boys, when they were not taking naps. When he was not playing, he was getting in trouble by capturing a mouse, figuring out what to do with it, and in a blink of an eye the mouse would take a leap of faith from the inside his paws and lived another day. After all his friends crossed the Rainbow Bridge, we became his pack for four and a half years. We were it. We ate together, played, relaxed, and enjoyed the warm summer days together. He loved cheese, teddy grahams, cheerios, dental sticks, almonds, and most of all he loved pizza. He always knew when it was pizza night, he can smell that dough rising throughout the day and looked forward to his piece of the pie. As he aged, his back legs and hips gave him trouble and going up and down the stairs became a challenge. Papa picked him up and brought him down every day, once we saw he was no longer able to hop willingly. On February 12, 2021 we made a heart wrenching call to finally let him rest and cross the bridge to join his friends. It was time, we were ready and I think he was too. It was not easy. No matter how much trouble they give us, no matter how much they love us one minute and want to bite our faces off the next, at the end of the ordeal they are still family. Walter made us laugh and gave us great memories to carry us through our days and we will forever keep him in our hearts. 'till we meet again my baby Walda. Love, Mama, Papa, and Christian.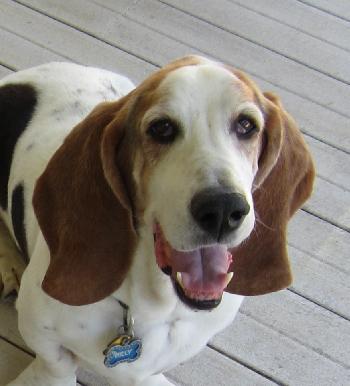 Billy
Back in August 2010, Billy was only supposed to be a quick pickup and drop off. He was probably about 7 years old then, and was surrendered by his owner to the Stockton shelter. I was supposed to pick him up from the shelter, keep him over the weekend, and then deliver him to his foster home on Sunday. Well, Billy charmed us from the get-go. He immediately got along perfectly with our older bassets, Jackie and Kirby, and our cats. By the end of the weekend, we knew that Billy was ours. Yes, Billy was noisy. He also loved to get up on the highest perch he could find. It could be the kitchen table, (if we neglected to push our chairs in), or the top of a crate, or even the top of a stucco wall, requiring ascent of a couple of smaller objects to reach his goal. He also loved to run off, laughing at us, who were trying to catch him. It wasn't that he especially wanted to escape; he just wanted the adventure. We always knew we had to be vigilant about keeping Billy secure. Aside from all that, Billy had the most pleasant and happy personality of any dog, anywhere. He was always good-natured and never grumpy. Billy liked everybody, human, canine, or feline. When Kirby passed away just a few weeks after Billy's arrival, Billy filled Kirby's shoes, almost seamlessly. It was as though it had all been planned. When we adopted 10-year-old basset Riley in October 2010, he and Billy instantly became best of buddies. They spent almost four years together as brothers and best friends. Billy was very saddened, when Riley died in 2014, but he welcomed new brother, Bob. Billy was never as close to Bob as he had been to Riley, but he and Bob were good company for each other, as the two of them went through their old age issues together, during the next few years. In his 7 years with us, Billy shared his home with adopted "siblings" Kirby, Jackie, Riley, Bob and Jerry (fka Frank), as well as foster siblings Dora, Daisy, Jerry (2011), Darlene, Isabella, Sam, Roy, Beau, Abby, Cokie, Roxie, Neil, George, Emma Jean, Barney, Mabel, and Kathy. Billy left us at the end of May 2017. Mark's impression of Billy, on that weekend, back in August 2010, was that Billy was "a keeper". Billy was that, and so much more. His unique voice could be annoying, but he was never out-of-sorts. He was just a happy guy, loving life--a very lovable and memorable dog. Fran and Mark Madden, Bob and Jerry, May 30, 2017
Click a letter to find an animal or
view all
.